Choosing The Right Colour Combination For Your Pool
Here are some suggestions/factors when choosing the combination of pool finish, waterline tiles and pool coping.
Consider the size of the pool and surrounding areas
Find a picture of a pool you like on the internet or in a magazine and we can give you suggestions on how to achieve this
Organise to see a pool in that colour. We have clients who are happy to let you see their pool. They probably went through what you are going through.
Lighter pool colours reflect sun rays – pool water may be cooler and there is a higher potential for glare. Lighter pool colours draw your eyes to the bottom of the pool.
Darker pool colours absorb sun rays – this may increase the pool temperature a couple of degrees and there will be less glare. Darker pool colours create a mirror-like effect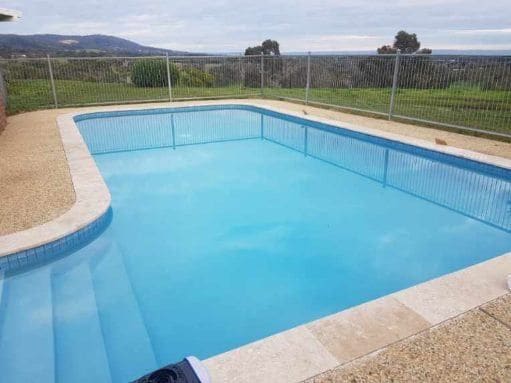 Factors That Determine The Water Colour
The colour of water is dependent on a variety of factors. It is very technical the science behind the colour of water. It involves the absorption and scattering of light and something called the Rayleigh Scattering effect.
Here are some factors to consider when getting the water colour you desire;
Water condition – the chemical balance of the water will affect the colour. If algae is present or the water is cloudy it will not reflect light the same as crystal clear water.
Environment – the colour and quantity of plants/foliage/trees around the pool will mean the water will take on a green tone.
Time of day – the pool water changes colour throughout the day based on the amount of sunlight. Full light enhances the water colour while full shade will make the water look clearer.
Pool depth – the deeper the water the bluer the water will look.
Water movement – depending on how fast the water is moving it can add depth and variation to the colour.