Quality Pool Coping Services
What is pool coping?
Pool coping is a term used to describe the material that
is used
to cap the edge of a swimming pool. Not only does pool coping enhance the aesthetic appeal of the pool.
Yet it also provides functional benefits such as keeping water from flowing behind the pool shell and into the surrounding area
.
Besides, when exploring your pool coping options, it's essential to consider the best materials that complement your pool
. Yet, its surroundings offer durability and longevity.
One popular choice is bluestone coping for its natural beauty and resistance to harsh weather conditions
.
Bluestone coping pool edge is a classic yet modern choice that provides an elegant finish to any pool area
.
However, concrete swimming pool coping is a fantastic choice if you're looking for a more cost-effective option
. Concrete pool coping offers a sleek and modern design. And is available in various colours and shapes, making it easy to tailor to your style and needs. Coping insulates your pool, reducing heat loss and decreasing pool-heating costs and upkeep.
Moreover, when selecting coping bricks, it's best to use durable materials resistant to external elements such as moisture and UV rays
. Repeated exposure to the elements can cause your coping to weaken and crack over time. Natural stone coping is popular due to its durability and natural aesthetics. Swimming pool coping stones come in many finishes ranging from honed to polished. Also, chiseled edges, provide a range of design options.
Hence, the coping edge requires proper installation, which will lead to water leakage. It can also cause damage to the surrounding area.
It's best to approach a professional with a wealth of swimming pool coping knowledge and experience
. The right pool coping will enhance your area's beauty and offer long-lasting protection.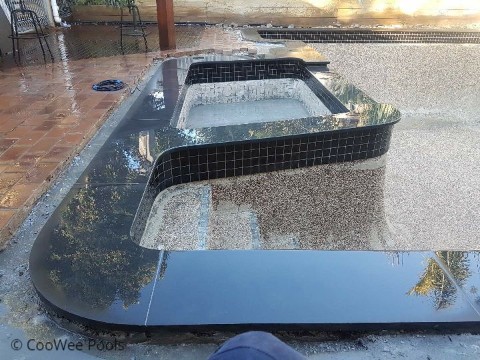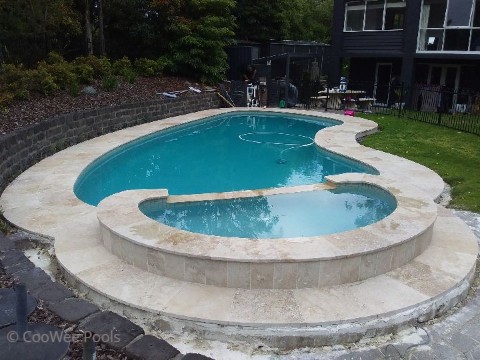 Square Edge: 

The edges of the pavers are square, resulting in a clean finish.

It is a popular option as it offers a contemporary and modern aesthetic and is available for various pool designs

.
Drop Down Face: 

This design is the way to go when looking for a seamless finish.

The 'Drop Down Face'

is made

from tiles with a lip, allowing them to fit over the pool's edge, hiding the rim and making the water surface appear flush

.
Bullnose: 

This design comprises rounded edges, giving your pool a softer finish. The 'Bullnose' finish is a traditional style of coping.

It comes in several different sub-designs, for example, half, sloping, and rebated bullnose coping

.
Tumbled Edge:  The 'Tumbled Edge' style gives a more rustic profile to the rim of a pool. It is due to the intentional use of uneven edging, a more unconventional design.
For more information on the different pool edge pavers or pool coping designs, give us a call on 0434 128 999.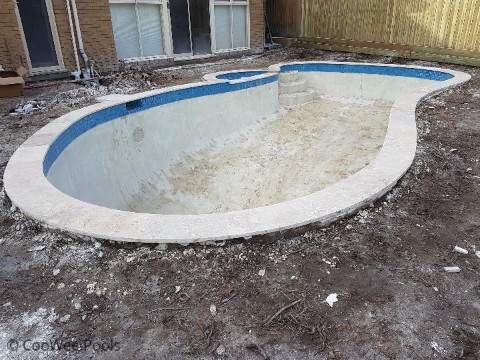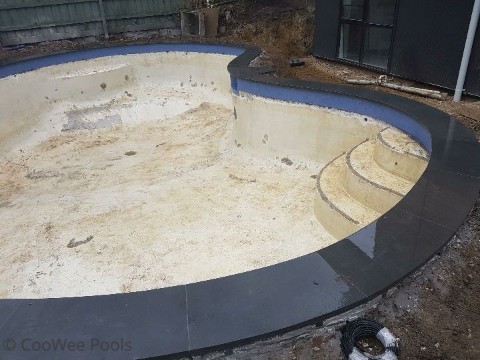 Natural Stones – Bluestone, Travertine, Limestone, Sandstone, Slate and Granite.
The use of natural stones is one of the most expensive pool coping options but is extremely durable, though some stones may need to be sealed. In harsh Australian conditions bluestone, sandstone and granite are some of the most popular pool coping materials due to their density and decreased porosity.
Brick is a very cost effective coping option, that can be used to tie your pool in with the existing aesthetic of your outdoor area, fence or home.
These pavers  come in a variety of colours and textures, which can suit the pre-existing aesthetic of your home. They also come in a uniform thickness, so they will look even and give off a clean profile when laid.
Furthermore, these materials can easily be sealed, in order to prevent water from causing damage or staining around your pool.  Sealing helps to protect your coping against corrosives like chlorine, salt and water runoff, it also protects from constant exposure to the elements.  
Similarly, a non-slip coating or product, with an engineered slip resistance is also crucial when protecting your family and friends from any risk of accidents around your pool.
What Our Customers Have To Say
Steve and Dave and the boys were amazing! Very happy with the end result! They came highly recommended and didn't disappoint. Cheers lads!
Thanks to Steve and David for their great upgrade to my pool. Their advice was sound , workmanship excellent and their general respect for our pool area during the renovation was outstanding. I would recommend CooWee Pools to anyone looking for a quality job done on time!
I would like to thank Steve and his workers on a fantastic job they did on my pool, nothing was too much to ask of them. Their workmanship was first class and I would highly recommend them to anyone looking to do a pool renovation.
Give your Local Pool Coping Specialists a Call Today
If you want to know more about our range of pool coping services or would like to discuss how we can help update your pool, please contact us now on 0434 128 999. We are always happy to answer your questions and will gladly offer you a free quote.
Frequent searches leading to this page: Pool Coping| Pool Coping Melbourne | Travertine Pool Coping | Best Pool Coping | Bluestone Coping | Pool Coping Tiles