Pool Restorations Melbourne
CooWee Pool Renovations offers several options for your pool restoration needs. We offer a variety of pebble and glass interiors. This is very popular due to its durability and versatility with respect to colours and shades. We transform your tired old pool into the pride of your backyard.
If you have any questions about getting your pool restored, please do not hesitate to contact us now on 0434 128 999. We are always happy to answer any queries you may have.
Before
After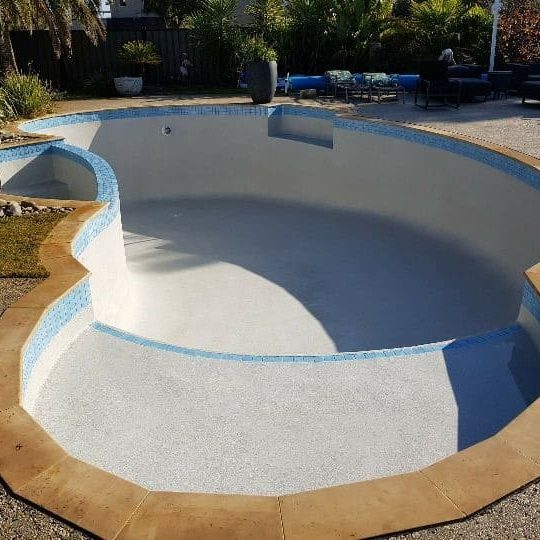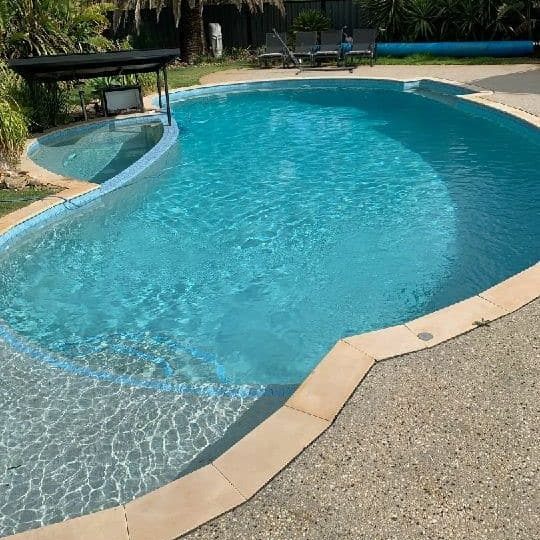 Above is a pool restoration in Sunbury where the waterline tiles are Mooloolaba Blue and the interior is white with light blue speck and sparkle.
Pool Interior Types and Colours
Your swimming pool interior can be finished in a number of different methods to suit your budget: Fully Tiled, Colour Quartz and Pebble/glass bead.
For more information about pool colours and how to choose see our colour options page.
Waterline Tiles
Waterline tiles are the interior tiles that are found in between the top pavers (coping) and the pool interior. Not every pool has waterline tiles, however the benefit in waterline tiles is that they have the function of masking stains that can mark pool interiors. A pool with waterline tiles will generally looks cleaner for longer in comparison to a pool without waterline tiles.
Before
After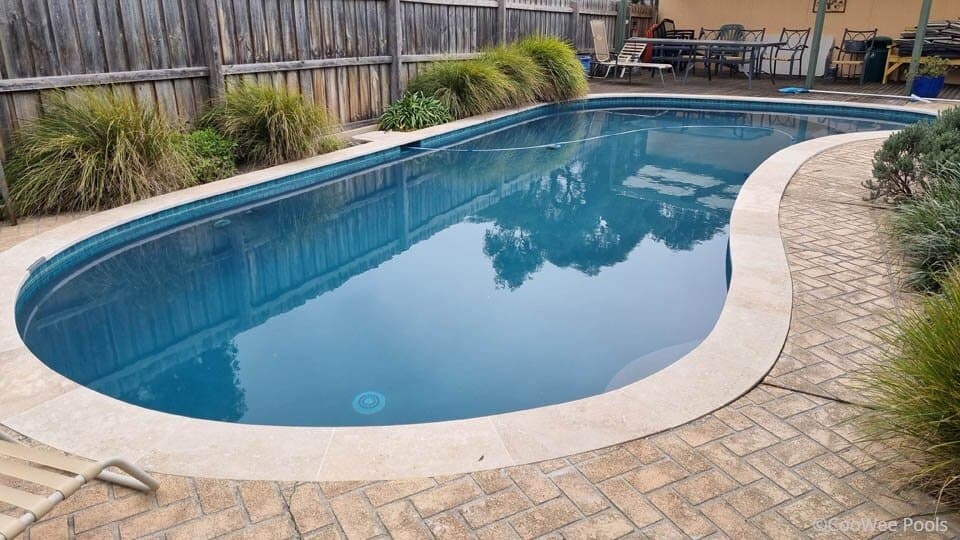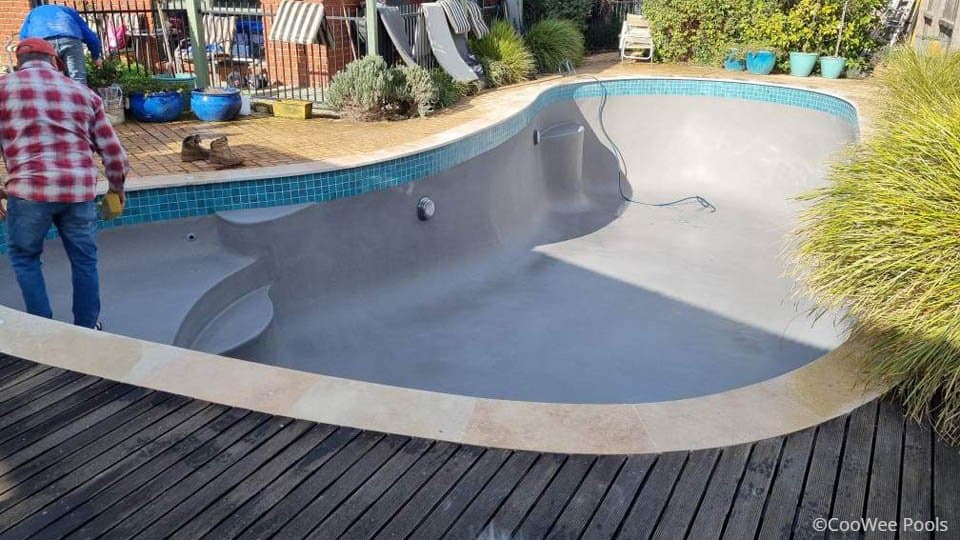 Before
After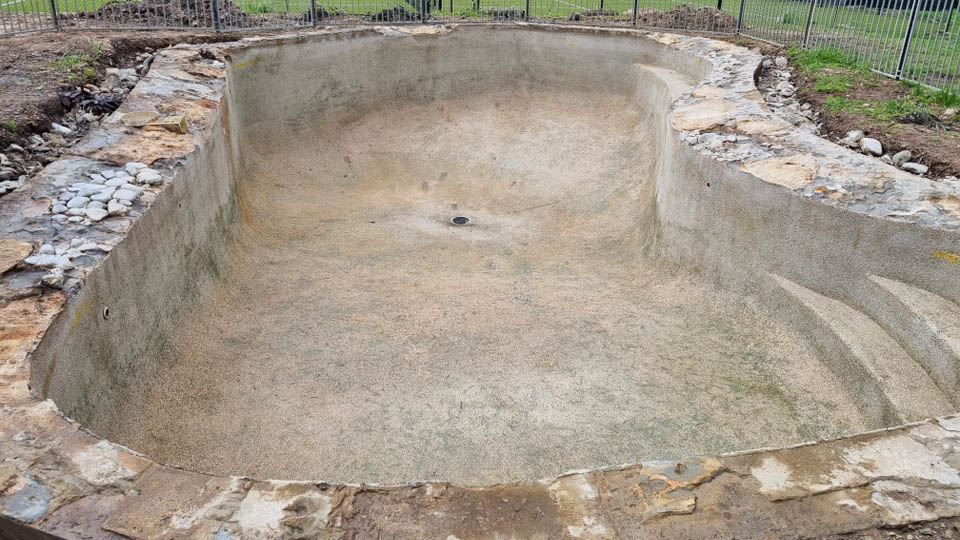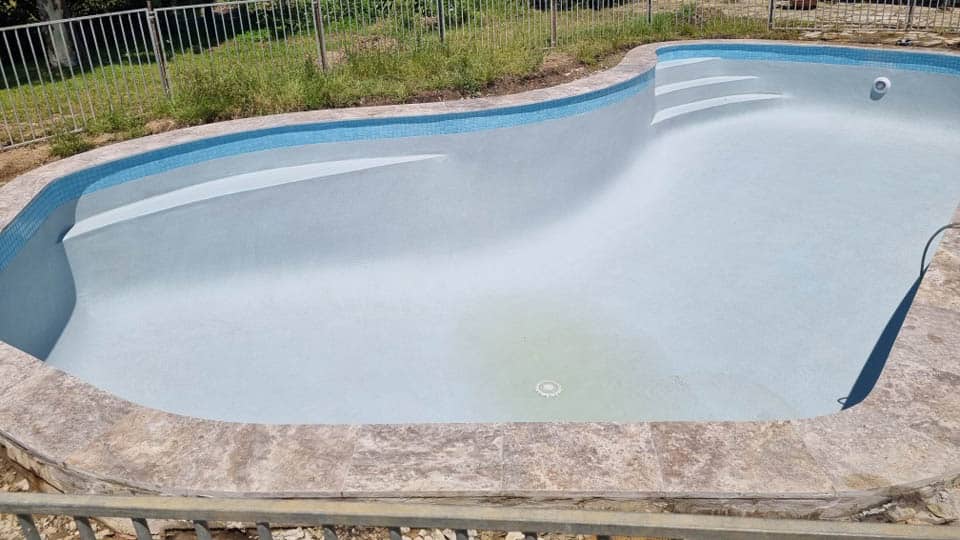 Coping Pavers
Swimming pool coping pavers, also known as bullnose pavers are specifically designed for swimming pools. Bullnose pavers come in many colours, designs and sizes and is a standard addition to the majority of swimming pools.
Swimming Pool Equipment
We can look after your lights, plastic fittings, filters and pumps, solar heating and cleaning equipment.
Before
After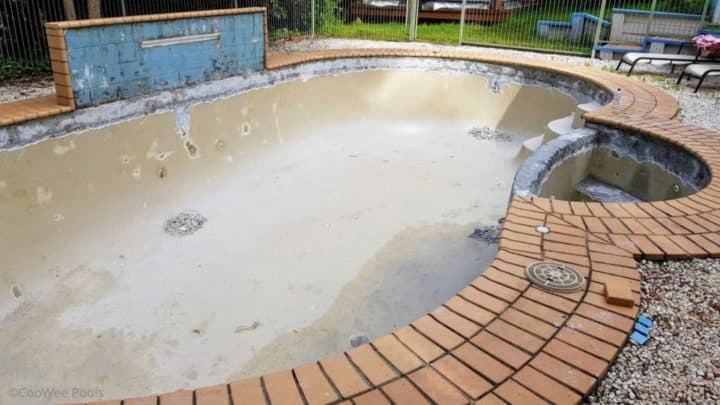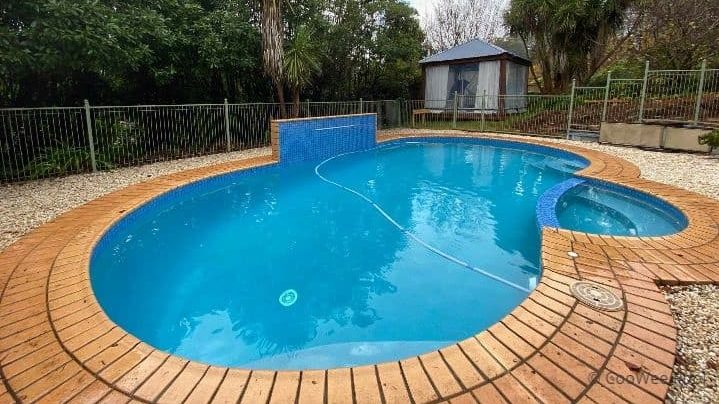 Above are before and after pictures of a pool in Kallista that underwent a full restoration. One of the tasks we performed was ripping up the waterline tiles to replace them with new ones. 
What Our Customers Have To Say
CooWee Pools did the job efficiently and well, and Steve was responsive and always pleasant to deal with. Excellent service and good communication. The job was done on time, and looked great. I am very pleased and happy to recommend Steve and his team, including Trevor who provided and installed the pool equipment, and James, of Living Extensions, who did the landscaping.
We have just had our pool renovated by Steve, Dave, Glen and the team and are so pleased with the end result. Our extremely old and tired pool now looks modern and amazing!! The finish product is absolutely perfect and exactly what we wanted. The team were also a pleasure to deal with, extremely professional, trustworthy, and very good at their trade. Nothing was ever too much trouble. Would highly recommend them to anyone whose pool is in need of a facelift. Great work guys!
Our pool looks brand new after Steve & his team from CooWee Pool renovated the interior surface of our pool. Steve's knowledge of pool surfaces, together with his workmanship and pleasant manner made the decision to use them to upgrade our pool interior an easy decision. Would highly recommend CooWee Pool Renovations.
Contact the Pool Restorations Specialist Today
Updating your pool is an important decision and it's imperative to get the right information. 
We have the industry knowledge and many years experience to be able to find out what you want and offer the correct options for your particular situation. Contact us now on 0434 128 999
Frequent searches leading to this page: Pool Restoration | Swimming Pool Restoration | Pool Restoration Melbourne | Pool Restorations | Concrete Pool Restoration